Skip to Content
Decorate Your Landscape With Beautiful Water Features
Total Lawn Care, Inc provides decorative water features for all types of properties. Incorporating water features into the aesthetic of your landscape will help transform its appearance, taking it to the next level. We can install waterfalls, fountains, mini ponds, and so much more – all of which come in various styles and shapes. Not only do we offer a wide selection, but our water feature installation services are quick and efficient. If you enjoy the soothing sounds of running water, a water feature or two would be the perfect addition to your property. Your beautiful landscape will transform into a breathing retreat when you hire the professionals at Total Lawn Care, Inc to install a state-of-the-art water feature. To learn more or get a free estimate, call today.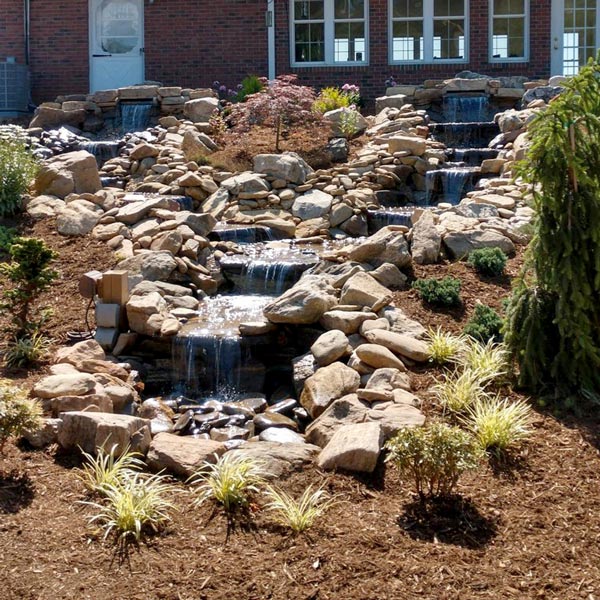 We Install the Following Water Features
When you choose Total Lawn Care, Inc for water feature installation services, you can rest assured you're getting nothing less than the best. Our natural and environmentally-friendly approach to designing and crafting water features ensures they will stand the test of time. Our water features are low maintenance, so you'll never have to worry about expensive or continual upkeep. With water features incorporated into your landscape, you'll want to spend even more time outdoors with family and friends. Below are some of the many water features we can install for you:
Fountains
Waterfalls
Mini Ponds
Spitters
Accessories
Choose Us for Water Feature Installation
Transform your property today with the help of Total Lawn Care, Inc. When you decorate your landscape with beautiful water features installed by our experts, your yard will become a welcoming oasis that you never want to leave. Whether you want a fountain as a breath-taking centerpiece or a jaw-dropping waterfall in the backdrop, we've got you covered. When we're done enhancing your property, you'll be able to sit back and relax as you enjoy the soothing sounds of running water. Choose Total Lawn Care, Inc for water feature installation, and we promise you'll love the results. Call today for a free estimate.
Premier Lawn Care Services in Asheville, NC